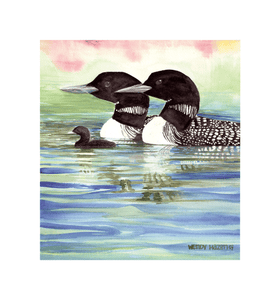 Sitting on the dock in the early morning with a great cup of coffee this little family of loons floated by.  Awe struck and amazed I somehow had presence of mind to snap a photo with my phone.  All without disturbing the early morning swim...

Wendy Hazen watercolors are available as giclee prints.
A giclee print is a reproduction of the original painting and printed on archival watercolor paper with archival inks.
The prints are guaranteed for 100+ years and come with a Certificate of Authenticity that can be placed on the back of the framed print.
For this painting there are 4 different sizes offered ~ 5"X 5", 8" X 8", 11" X 11" & 16"X 16"